Clothing Size Labels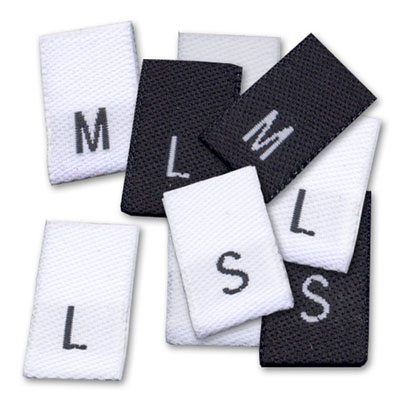 Labels work wonders to clothes. A clothing size label is obvious to be noted in good sense and taken seriously. Be it a baby suit or a corset, every cloth must be labeled properly depicting its name. Next to the naming label which shows the grand name of a brand, there is a small tag that is an important addition to the primary one. This one mostly comes in black and is a little less than half an inch. This is the size label. A size label can have unique Roman alphabets or numbers to depict the size of the wear. Most notably, sizing labels are color coded black into digits or tall alphabets like XX, XL or XXL. Each number or alphabet relates to the size difference common to its measurement. Clothing Size labels are usually woven in the loom. While adult clothes have woven black size labels or black satin printed Clothing size labels, kids wear in general use white Cotton Printed Clothing Size Labels. From small to medium and large, or maybe extra large, every label elucidates precisely what shirt will fit your shoulder.
These tiny but wonderful tags are important in every aspect because they make you judge exactly what to finally buy because selecting and then purchasing are two different scenarios. Clothing size labels can mean a lot to the industry also. We don't see a garment without a size label, do we? Obviously not. Its not that a label needs vivid appearance...it can be dull also to create a style of its own or there could be a woven label or a white satin printed size label. We have various labels with various price lists and manufacturer classifications. Although white woven size labels also stand unique in choice, but ultimately its our way of verdict which tag should we use.
POINTS
Black Woven Size Labels
Official attire feels best to identify itself in black woven size labels and white fabric background or even a blue one. The tag relevantly depicts size and may also show the country where it is manufactured.
Black Satin Printed Size Labels
These labels can come in various categories like size label only or brand name followed by size, fabric mix and some even have wash care instructions on it.
Grey Cotton Printed Size Labels
This type is can be flaunted on casual more than any other or T-shirts. Just like satins, a grey label can contain company brand, size, country of manufacture or other important wash care points though size can be written on top with bold fonts.
White Cotton Printed Size Labels
A short elongated strip of cotton label holds the hem or inner shoulder lining put up as S, X, X or XL, could maybe other Romans. Most printed labels are confined to the size, others can also put company name.
White Satin Printed Size Labels
Satin labels are suited to match silk and garments made of glaze cotton as the label can resemble them perfectly. A satin printed size label will have the size ratio but it does make way to company name, cloth mix or wash care icons.
White Woven Size Labels
Woven labels are prominent in child wear but they also hold a place in casual dressing. Chinos and denims often find the label use and Khaki shirts have a flair for them.