Wash Care Label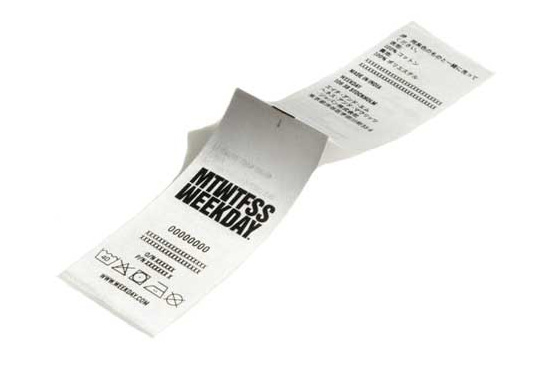 Every wearable garment is distinctly represented by its brand label, the signature value it holds of the cloth but there is certainly one more label that is not the eye of attraction, however, its place is very significantly marked to give the care your wear needs…it's the wash care label! Although less prominent, a wash care label holds special place in every cloth stitch because it gives vital information in a small contained tag where a number of logos are enough to guarantee a longer life to your adorable attire.
There are different fabrics and the nature of their treatment is also different. Say for cotton fabric, harsh detergent can be used in removing stains and dust but the same technique is not used for silk fabrics or woolens. Silk being a delicate and expensive cloth needs extra care and certainly should be treated with great caution. A silk shirt will generally not have machine Wash care label instructions but the tag will depict only drycleaning. Harsh soaps and bleach can weaken the threads and wring drying is prohibited. Also gentle cleaning is promoted when handling silk clothes. These points are depicted by pictorial logos on the label clearly mentioning how to handle your garment. Woolens also show do's and don'ts in a short depiction of pictures like light machine wash, no direct sunlight, no ironing, tumble dry, etc.
We don't generally closely remember wash care label but watch out for their logos. If asked to name any five, quite obviously we will just recall four, but there are plenty and these are separate for washing, tumble dry, ironing, bleaching and dry cleaning. One more process that is too obvious is natural drying, but this instruction is seldom on the tag as natural drying is the most common and safe way of parching our wear. There are separate wash care label instructions for cotton, synthetics and wool and some have hand Wash care label only. While extremely fragile clothes are prohibited tumble dry, others can have with separate heat settings. Bleach instructions are also mentioned mainly on tags of colored clothes where "do not bleach" sign" mentions to forgo it. White cottons can go for it. Most importantly, a wash care label instruction is vital to delicate and expensive clothes because they need to be worn on special occasions and must look perfect from all corners. A party wear suit or silk may be instructed to dry clean because water cleaning can spoil the fabric or create bubbles in its fusion. However, some logos instruct a special procedure to dry cleaning, while some clothes need not be processed with solvents. Different fabrics have different instructions altogether but they serve the purpose of care giving an extra life to the cloth.
A label of Wash care label instructions is much more than a tag because it helps us know the characteristic of the fabric we own. A mishandled product can become useless if the Wash care label guidelines are not followed like treating a colored camisole in bleach. Having expensive clothing gives a sense of pride and attainment but if its upkeep instructions are respected with perfect handling and storage, your robe is going to give you many pleasant memories you dream of!