Name clothing Labels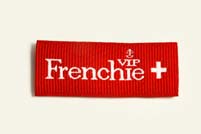 The Easylabelsonline's name clothing tags are perfect and durable that gives an awesome finishing touch to your clothing products. We provide a wide range of custom woven cloth fabric labels and name clothing tags. You can choose from custom woven clothing name clothing labels or adhesive clothing name labels whichever you like. Professionally, these clothing name clothing labels are used by many large garment manufacturers, designers, and crafters. Our name clothing labels are the ultimate finishing touch.
We offer High quality for different types of name clothing labels, depending on your preferred application method. Our name clothing tags are microwave-safe, water-resistant, scratch-resistant and super strong. We deliver high quantities and also offer free samples test for work available, unlike many woven name label supplier & manufacturers. Now choose name labels for clothes that iron on, stick on and sew on it.
Therefore, you can have the same professional look with personalized woven clothing name labels and hang tags for your own garments or projects. Our Personalized iron-on clothing label is inexpensive and all types of name labels are available at reasonable price.
These custom clothing name labels are available in different size and types as per our client demand:
Damask labels
Taffeta labels
Satin labels
Semi-damask fabric labels
Therefore, you choose for your name labels Regardless, we are committed to providing exceptional clothing name labels at most competitive prices available in the market. We can customize name cname clothing labelslothing labelss for toddlers and children. Therefore you can also get custom clothing labels design kids clothing labels for cloth products and toddler clothing designs.
5 Reasons to buy clothing name Labels from us:-
No Setup Fees- providing a free digital scan of the labels before order processing.
Low Prices- you don't have to pay middleman money, as you are connecting with Being Direct Manufacturer.
High Quality- we are authorized suppliers and world's leading brand and we guarantee same high-quality standards for name clothing labels.
No Minimums-You can order as little as 50 pcs or maximum as much as you demand.
No Shipping Charge- All bulk order will be delivered on time with no extra cost at your doorsteps.