Garment Label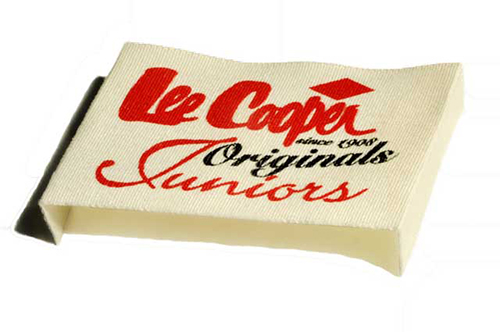 Easy label, Print has built a good repo, therefore, our clients gave us a position in one of the topmost manufacturers of Garment labels in India. We have been in this business for last 15 years with our friendly relationship with our customers that are the part of our policy also. We provide two kinds of garment label, including woven labels and printed ones.
The Woven labels come in levels of customization and our woven designer labels which offer more choices. Starting with basic woven name labels, we offer fully customizable Woven garment label. There are two types of Woven Labels.
1. BASIC WOVEN LABELS
Our products are high-quality, artisanal, and unique. Our Basic Woven Labels shows the creativity and hard work of our team. This product has high-quality, artisanal and unique with a perfect finishing touch: your signature. You can select vivid colors, texts, border or symbol stylized fonts and sizes.
2. DESIGN WOVEN LOGO LABELS
Woven Labels weave your artwork into a design that's customized, intuitive, and exclusive to your brand. First, you need to select your size and shape: laser-cut or folded with the colors among every shade imaginable. Then after our graphic designer will verify make any necessary adjustments to ensure unmatched quality for your customized garment label.
Our Printed garment labels are made from the variety of materials including coated polyester, iron-on, satin polyester, nylon, and weave. Garment label materials can also be provided as per the customer's requirement in case of bulk order and contract conditions.
If you require the labels for washing instructions, branding, contact information, a personal message or simply to put your name on a garment label, both woven and printed labels are recommended for you. Because both types of "garment label" are durable and wash-proof, so can get these customized garment label with your name, contact and your logo with business information. Therefore, garment label by Easy Label would be the best choice for clothing, garment label, textile, and name labels of your brands.
How do we customize and make garment labels?
First of all, we offer to our clients the best quality of raw material like satin coated polyester, polyester, nylon, Taffeta, iron-on for printed labels and Damask, Semi-Damask, Satin for woven labels. They need to select the material that assures durability and smoothness of our product. The colors we use in drying our product are not the one which easily fades off washing. Our designers always take special notice of latest fashion trends and prepare elegant yet fashionable garment label as per our client's demands. We give final touch with fine stitching and finishing to your selected items with the latest technology or by hands craft whatever our clients prefer.
Why Easy label?
Our garment label and tags are very soft and comfortable that is not the one which causes harm to the skin of your garment label wearers. Our entire team is well experienced in production and ethically, socially responsible towards our products. We offer the wide range of garment labels in every respect to shape, size, color, and design. We can provide garment label for various occasions.
In short, you can trust us for producing best garment label and tags with the best quality of raw materials; latest designs, dyes and all stuff are available at reasonable prices. Therefore ask for a quotation and after comparing quality and price order our garment label kit today.