Learn the Basics of Making Embroidered Patches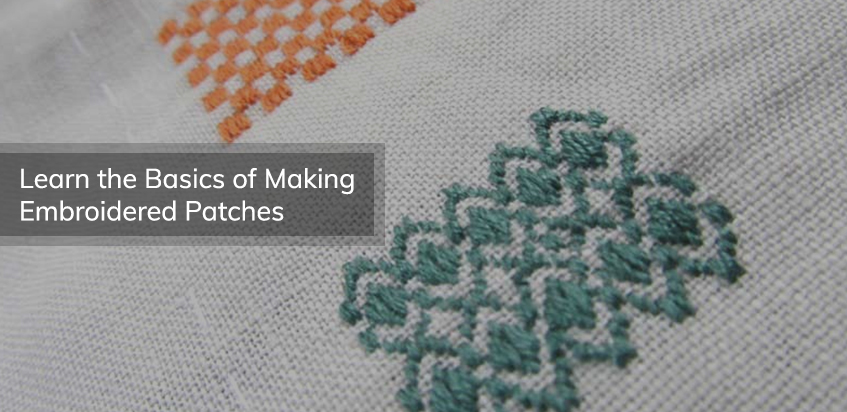 A rich cultural heritage follows the trail of embroidered patches which dates back to thousands of years to approximately the origin of thread stitched patterns on clothing. With the emergence of activities like DIY (Do It Yourself) embroidered patches are back in action with a twist of modernization, such as patches and designs that reflect today's popular culture and other positive themes. It has become a trending concept to add embroidered patches to various items such as clothes, bags, fabrics, upholstery etc.
Types of Embroidered Patches and How Easily they Can be Made
There are different types of embroidered patches out of which some can be made with ease and some require special care:
Custom- made Embroidered Patches
These embroidered patches have a retro touch to it; some patterns are dated back to India's rich cultural heritage. With time now the facility of using any designs that you may want to get printed. Easy Labels Online helps you to simply upload the design the design you want which we help to present in a threaded creation. This facility makes possible to see your logo or artwork in a more physical form made by threads.
Standard Embroidered Patches
In this form of embroidered patch, the designs are not printed on it; instead they are sewn on to a backing cloth. For creating this patch a wide range of colorful and thin threads which is stitched onto a fabric backing cloth. After this patch is complete you can see a transformed version of the loose threads and simple fabric, this is the true essence of embroidery. If you are one of those sewing enthusiasts, you will surely know how difficult and challenging this intricate work of threads can be.
Unlike few traditional art forms, the precision and intricate work of embroidery is still an important art form. After so many modern transformation in the fashion and textile industry these embroidered patches have stood firm like a rock, make our clothes, bags fabric etc. look beautiful.
With the use of modern techniques the Embroidered Patches get a timeless look. These modern day patches can be stitched onto jackets, book bags, hats or any other fabric. With such a versatile quality, these patches provide a detailed addition to any form of fabric and help in its promotion. The embroidered patches provide so much happiness that they have the potential to bring life to any reward package or gift bag. This is the reason Embroidered Patches have been used for ages as a method to attract crowd in promotional campaigns for different clothing products.
Iron- on Patches
If you are not fond of sewing or lack the skill or the time, then you don't need to worry. To solve this problem Easy Labels Online have come up with an option so that you don't have to miss out on these exception embroidered patches, which are the iron- on patches. These can be ironed on a fabric and they stick to it as if it always belonged there.
Some Important Things to Note:
With so many great benefits and a promising look, these embroidered patches still have a few drawbacks, since nothing is perfect. As the design is not printed or woven, it can have an overworked appearance if too much has been asked to do on the patches. To give a probable solution to this we limit the number of colors one can use on a single patch. This solution helps to make the embroidery look less cluttered and messy.
If you want to choose a design that has been filled with detail, then it is recommended to look at the woven patches designs. Since these designs are woven in fabric they can give a promising effect with the touch of more intricate work.
Even though Easy Labels Online provides affordable prices, the pricing shall vary for embroidered patches based on intricacy, backing, amount of production and other details added.
Simple Steps Involved in making Embroidered Patches
There are some simple steps that you can follow for making the ideal Embroidered Patches:
1. Hoop the proper stabilizer or the other material that you will be using. To get a clean thread- wrapped edge you can go for water soluble stabilizer that melts when washed or can go for plastic film which tears cleanly after it has been stitched.
2. Before making the final design stitch a line to see the placement of the patch material and also determine if the material will be pre- cut or if it will be cut by hand or with laser.
3. Place the patch material inside the hoop and then carefully align it with the placement stitching to be able to cover the initial outline. If you feel the material is shifting easily then apply a slight adhesive to secure the material.
4. Stitch a run which helps you to hold down the base patch material, for most of the pre cut materials that you get it will be in a zig zag stitch. While you will be mostly using the 1-3 passes of straight stitch to define the edge of your patch material so that it is easy for you to cut away the excess material closely with the stitched line.
5. Now you can run any central design on the patch material. The main decorative part of the design needs to run before the outline since the stain outline has the most chance of compromising with the stabilizer that causes the patch to shift or may result in a premature pop of the stabilizer, particularly in plastic films.
6. Finally stitch the final design with the stain stitch border.
7. In the end make sure to remove the patch from the hoop. Then remove the excess stabilizer by washing or you can also rinse in case of the water soluble stabilizer or if you are using plastic film you can tear it away as well.
Although these steps suggest a way to make embroidered patches but for complete precision and years of experience you can connect with Easy Labels Online.