How Garment Labels Influence Apparels in their Production and Promotion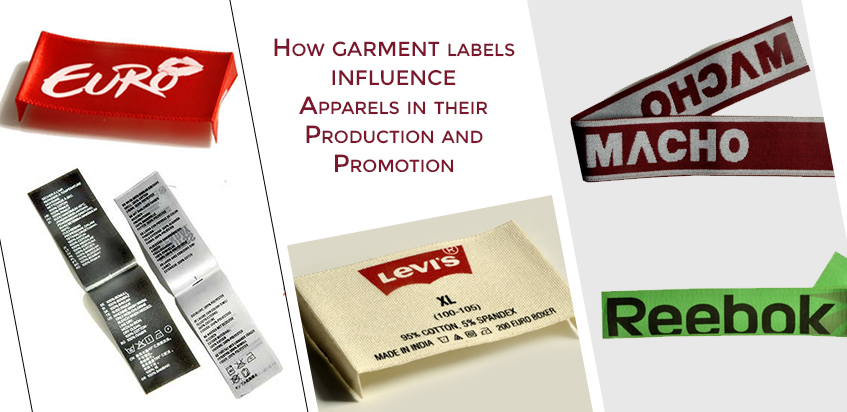 Each garment manufactured has a label affixed to the collar or somewhere in the shirt. There could be a name label and also an instruction label, but both have their own importance. How a label characterizes its clothing sense is indeed witnessed by the type of quality and make it adorns. A costly or highly priced garment would have a very fine label of something like glaze cotton that resembles simplicity yet ostentatious pride and opulence. Labels do speak of luxury in their own way and they also tell you about the garment type. A hungry or a kid's T won't have a disciplined print but could depict a colorful graph or a cartoon sewn across a small strip of fiber to dominate its class and caliber for young children and kids which is stitched at the back or inside the shirt area. Similarly, girls' label could be genteel and light in depiction like a few butterflies or an italics signature without bold or thick fonts.
Labels are the brand ambassadors of a garment:
Labels speak their own language at times because they ought to be different on the garment. Certainly, when the buyer looks at an expensive shirt, he won't miss out the label either because the label is the identity of the shirt it depicts and there is a certain kind of domination it would represent.
The definite cause of a label's growing importance is its goodwill, that same brand value it inculcates in the garment where the label shows the cloth's name, the same name which has been advertised multiple numbers of times giving it certain promotion and brand recognition. So without a label, a garment is incomplete and so cannot have a good name and a good price.
There are basically two types of labels:
A. Main Label.
The main label contains the brand name or brand logo of a company like Van Heusen, Tommy Hilfiger etc. It is the brand maker of a garment because it highlights the company's logo and gives a sense of its valuable market dominance. Not all companies have a brand value but when they do, they are only represented by the logo or label on their piece of attire. Therefore, the main label is precursory to the building up of a marque.
B. Sub Label:
We have read the importance of the main label but there are other labels too that directly or indirectly refer to the value of a garment. This category includes sub-label wherein many different types of labels fall. Whilst sub-labels are secondary, their importance is nonetheless vital to the product.
All kinds of Sub Labels are discussed in the following:
1. Care Label:
Care label is an important instruction label in every garment mostly at the inner joint side. It shows how the garment should be treated in terms of wash care instructions, bleaching, drying or ironing. It assists the customer to be cautious about the cloth's upkeep and laundry instructions. Since different materials have different fragility and strength, they ought to have dissimilar washing instructions too. Care label, one can prolong the life of his garment and also have to safeguard its color from fading,
2. Size Label:
The size label is a small garment tag that displays the size of the garment. Size labels are depicted as S, M, L, XL, XXL where S for small, M for medium, L for large, XL for extra large and XXL for the largest. They can also mark size as inches like 40, 42, 44 and so on. One can get an idea to buy the appropriately sized garment just by looking at the label.
3. Price Label:
Price label shows the price of the garments.
4. Special Label:
These are promotional labels to attract the customer to the unique material of which the garment is sewn. It could be like 100% cotton, 100% georgette, 100% silk, etc.
5. Composition Label:
Composition label forms the fabrication and composition percentage of a garment. It can be further categorized into two instruction points. First, it indicates particular fabrication e.g. cotton denim, or cotton sub denim etc. Secondly its composition percentage referring to a mix of materials like 95% Cotton 5% polyester or 100% Lycra etc.). From composition labels, we can know the durability of a garment, its elasticity potentials or acceptance of the material for people sensitive to particular material type.
6. Flag Label:
Flag label is a very small label that shows the brand or logo of the company on the outer part of a garment. It can be attached to the side seam of the garments.
At Easyonlinelabels, a leading garment label manufacturer in India, you can find different labels that suit your need and customer taste. You have a wide variety to choose from our numerous label brands or just let us tailor-make your logo to get a brand new promotion for your highly valued garments!