Badges- The Perfect Promotional Tool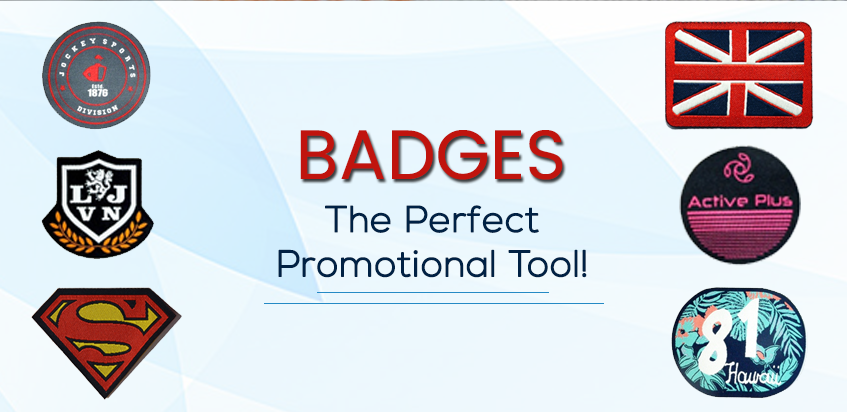 From restaurant, schools, offices to army; we have seen badges everywhere. Badges are not just an accessory anymore; it has an entirely different connotation now. From kids to elders everyone has seen a badge and wants a badge, but where did they come from and how did badges become such an impactful promotional tool?
The first design for a badge that was patented in the United States was in the year 1896, but badges have now taken a contemporary form where they are used for distinguished purposes. A badge basically is a device or accessory which can be the sign of an organization, an indication of a service, a symbol of authority etc. But badges can also be used for advertisement, publicity and other branding purposes.
The badges now days can be made from metal, plastic, textile, leather, rubber etc., which are commonly, attached to clothes, bags, footwear and many more things. Textile badges or patches can be used by embroidering or gluing or sewing or in the form of iron- on patches. Batches have now become a highly collectable item such as groups of Badge Collectors.
The versatile form of art invented many years ago still has shines like a diamond in the field of publicity, which is used by money companies, schools, students and other organizations to promote themselves or their work. The best why badges are so famous is their low production costs which make it easier to be distributed to masses. Let us now delve into different reasons that prove badges to be the perfect promotional tool:
Badges are the most visible form of promotion that is not restricted to the premises where they are distributed, but travel with the person who wears them. These badges are an excellent way to engage your audience and the following reasons make your belief of considering badges to be an excellent promotional tool even stronger:
⦁ Predictable Achievement
Badges, since the time they were first created have been helping all sorts of companies, organization, schools and communities spread awareness about them in their target audience. The always promising results these badges have provided, has helped its distributing communities gain some predictability over their promotional achievement.
⦁ Mass Visual Appeal
One of the main reasons why badges are used for promotion is that it appeals to the masses. Everyone wants or would feel delighted to have some kind of badge. Since the badges are so liked upon, many organizations have diverted their promotional efforts towards distributing as many badges to their target audience as possible. Be it a kid, adolescents, adults or old people, all find the visual appearance of badges great. Wear a badge instills within the one who wears a sense of pride.
⦁ Bring a Community Together
How great does it feel to be a part of a group? Isn't that Right?! Wearing a badge of a particular community not only provides a sense of belongingness to the community but also is an effective reason to bring the community the badge belongs to close. There have been many examples where badges have brought a community together, such as badges of volunteers or company badges have brought its members of different locations close (making work smoother)
⦁ Potential of your Badge
Badges can be used in a variety of ways but the most efficient way to promote business is by projecting one's strength on it. Many companies that use this method of publicity opt for designs on the badges that will easily attract their audience. The best way to use a badge is to create badges that either says more in less number of words or those badges that make use of pictures and images to publicize your work.
⦁ Design of your Badge
Badges are based on a pretext of a structural challenge but they undoubtedly come with an unexpected delight amongst its views. Badges with modern day tools and techniques are designed to compel the target audience to know more about its distributing community. For doing so, many organizations give great emphasis to the design of the badges, some choose vibrant colors while some choose effective images and some others prefer to go for both the options.
⦁ Building Trust in your Audience
By distributing and using badges for promotional activities you instill trust in your audience that you are a well recognized entity and can prove your claims if they connect with you by wearing your badge.
⦁ Psychological Factors (Collection and Scarcity)
Scientifically proven psychological factors collection and scarcity play an important role in publicity. The more people love to collect, increases their chance of wanting your badge and since the badges are scarce, it creates urgency in the audience to get the badges immediately.
⦁ Badges create a System
It has been observed the regardless of the design of the badges; it has been known to instigate a behavioral change in the audience towards liking you and your products. This is a huge factor that makes badges an effective promotional system.
⦁ Versatile and Customizable
The best part that attracts people across all sorts of demographics and organizations is that badges are a perfect balance between simplicity, message and detailing. Once this is done the result is an impressive product that people love to pin to their clothes, bags, caps and many other places.
⦁ Low Production Costs
Easy Labels Online is famous for a variety of badges that they have been creating with years of experience in a low production cost. With time we modify our badges range so that your company or organization uses the latest variety of this promotional tool to attract maximum number of people.
⦁ Badges are Timeless and Popular
Badges have been around since 1896, but the kind of attraction people develop towards badges is timeless. From kids to elders, this little badge is something everyone craves for. Whether you want to send a message, or popularize your logo, this simple piece does it all with great effect.